COVID continues to impact how we live and work,
and it does not look like this will change anytime soon. The significant changes to everyday behavior to keep our families, friends, and colleagues healthy and safe, can be confusing and downright frustrating. However, dealers and employees must continue to practice some basics to prevent the spread and a potential second wave that some medical experts are saying may happen as we head into flu season. Everyone can help by adhering to the basics. Enforcement in this area will help prevent a "second wave" and will be key in avoiding future shutdown orders.
Maintaining Social Distance (at least 6 feet apart)
Social distancing is something that we have been advised to practice since the start of the pandemic. As businesses began to open and shelter in place orders were lifted, maintaining social distancing became more challenging. Dealers can help employees and customers adhere to social distance guidelines in a few ways. Some businesses have assigned a point person to greet customers at the door. This is an employee that will help customers with what to expect when visiting your dealership. During uncertain times customers and people, in general, are understandably scared, and this leads to apprehension about what they should or should not be doing. A little understanding and helpful communication will go a long way to help the customers that have the most concern.
Washing Hands (Frequently) Correctly
From the start, we have been advised by medical professionals to wash our hands frequently. A visit to the CDC website (https://www.cdc.gov/handwashing/when-how-handwashing.html) provides the best guidance along with other great tips on when and how to wash hands. Everyone should follow these simple steps every time:
Wet your hands with clean, running water, turn off the tap, and apply soap.
Lather your hands by rubbing them together with the soap. Lather the backs of your hands, between your fingers, and under your nails.
Scrub your hands for at least 20 seconds. Need a timer? Hum the "Happy birthday" song from beginning to end twice.
Rinse your hands well under clean, running water.
Dry your hands using a clean towel or air dry them.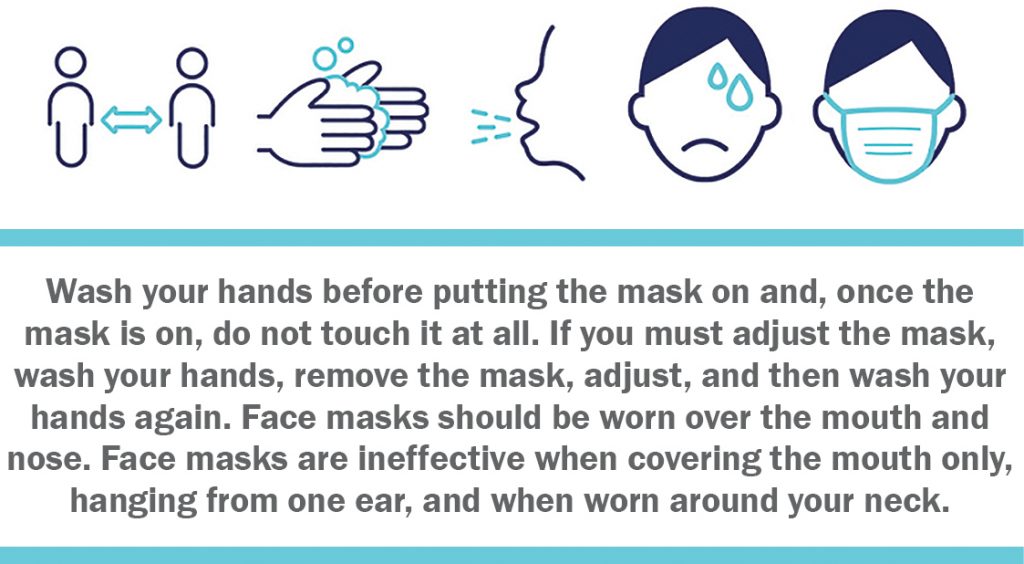 Practice cough and sneeze etiquette
Whenever possible, make sure everyone is practicing cough and sneeze etiquette. Cough and sneeze into a tissue, discard the tissue and then wash hands. If you do not have a tissue, the next best place is to cough or sneeze into the elbow area. If you are outside, move away from people when coughing and sneezing.
Ask employees to conduct a Health and Safety check before coming to work
Employees should check themselves daily before coming to work. Look for the following symptoms: fever or chills, cough, shortness of breath or difficulty breathing, fatigue, muscle or body aches, headache, new loss of taste or smell, sore throat, congestion or runny nose, nausea or vomiting, and diarrhea. Employees can go to the CDC website (https://www.cdc.gov/coronavirus/2019-ncov/symptoms-testing/symptoms.html ) for additional information and for a Corona Virus self-checker.
There are a couple of other things employees can do to help. Conduct a health and safety check of those you live with. Remember, if they have symptoms, you may have been exposed to COVID. Notify others, including your employer, if you have been exposed to someone with COVID or that may be presenting symptoms of COVID. Test for COVID if symptomatic or if caring for someone with COVID. Employees should not report to work if they possibly have COVID.
Using Face Masks Properly
Wearing face masks all day can be uncomfortable and, for some, can present a health risk. Make sure employees are healthy enough to wear a face mask. If an employee is unable to wear a face mask, some other accommodation may be needed. For employees that can wear them, there is a proper way to put on and take off a facemask.
Again, handwashing is necessary. Wash your hands before putting the mask on and, once the mask is on, do not touch it at all. If you must adjust the mask, wash your hands, remove the mask, adjust, and then wash your hands again. Face masks should be worn over the mouth and nose. Face masks are ineffective when covering the mouth only, hanging from one ear, and when worn around your neck. See and follow all CDC recommendations regarding the use, disposal and care of face masks. Additional information can be found at: //www.cdc.gov/coronavirus/2019-ncov/prevent-getting-sick/how-to-wear-cloth-face-coverings.html
Disposable Gloves
Disposable gloves should not be used in place of washing hands regularly throughout the day. Gloves should only be worn when there is a chance of high exposure, such as handling high touch items where there is a good chance the virus is present and that could spread the virus onto the gloves. Disposable gloves should be used by employees who are responsible for cleaning and disinfecting the facilities. If you have touched a surface that may have a virus on it with disposable gloves, those gloves may now have the virus on them. It is important to be mindful when using disposable gloves. That means not touching your face, eyes, nose or mouth with the gloves. Remove the gloves properly by not touching the outside of the gloves. Dispose of the gloves and then wash your hands. See and follow all CDC recommendations regarding the use of disposable gloves. Additional information can be found at: https://www.cdc.gov/coronavirus/2019-ncov/prevent-getting-sick/gloves.html