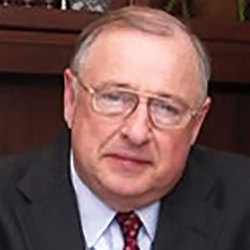 Senator Bob Smith

What inspired you to run for office and become a legislator?
Reading the newspaper as a newspaper delivery person in my teens and as a Street Corner Speaker for Gene McCarthy in 1968.
What are your greatest achievements and greatest disappointments as a legislator? If you could change one thing in Trenton, what would it be?
Greatest achievement – the Highlands Act and other environmental legislation. Greatest disappointment – how long it takes to get legislation passed and changing the Whitman pension bond issue.
What are the legislative priorities, issues or areas of concern on which you would like to focus your attention?
Grid-Scale Solar, Dual Use Solar, Recycled Content, Energy Efficiency Standards for Appliances, C-Pace and Neonics.
Coming out of the pandemic, what are the lessons you've learned, and how do you believe those lessons should guide public policymakers going forward?
The need for more effective communication with our constituents and the public at large.
What was the make and model of the vehicle in which you learned how to drive? Also, what was the first (new or used) vehicle you owned?
'57 Chevy, which was my first used car.
Senator Smith's Bio:
Senator Bob Smith represents District 17, which covers parts of Middlesex and Somerset County, including Franklin (Somerset), Milltown, New Brunswick, North Brunswick, and Piscataway.
Senator Smith joined the New Jersey Legislature in 1986 as an Assemblyman and was elected to the Senate in 2002. He is the Chair of the Environment and Energy Committee and is also a member of the Judiciary Committee.
He is a graduate of the University of Scranton, where he majored in History and received a Master's Degree in Chemistry. He also earned a Master's Degree in Environmental Science from Rutgers University and his juris doctor from Seton Hall University of Law. Before becoming an attorney in private practice, Senator Smith was a professor of Chemistry and Environmental Science at Middlesex County College.
He and his wife Ellen live and work in Piscataway Township. They are parents to two grown daughters and are proud grandparents.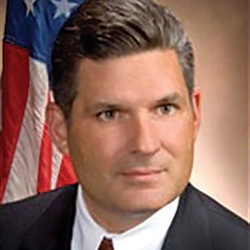 Assemblyman Lou Greenwald, Majority Leader
What inspired you to run for office and become a legislator?
I owe my inspiration for public service to my mother, Maria Barnaby Greenwald. When I was just 10 years old, she became the first female mayor of Cherry Hill. She continued breaking ground after becoming the first female Freeholder Director and first female Surrogate of Camden County. Despite these remarkable achievements, what I remember most about her were the relationships she made with the constituents she served. Trips to the grocery store would take three hours because she would always stop to talk with neighbors and listen to their concerns. She was well known as someone who would hear from as many people as possible and discuss all sides of an issue before making a decision.
After she passed away, I was approached to run for Assembly, and despite not having held public office before, I knew that I wanted to continue my mother's legacy. I have been representing the 6th District since 1996, and it is the only elected office I've ever held. Each and every day, I try to follow in her footsteps by making sure everyone I represent is able to voice their opinion and is given an audience when doing so. It is the way my mother led, and it is the right way to do so.
What are your greatest achievement and greatest disappointment as a legislator? If you could change one thing in Trenton, what would it be?
My greatest achievement as a legislator came back in 2003 with auto insurance reform. Before I became a legislator, I had paid my way through law school selling cars. I was able to see firsthand how, for so many families, buying a car was one of their most important purchases. Yet many of these people, even after making their first payment, could not drive their car because they were not able to afford the insurance. In the early 2000s, auto insurers were leaving the state in droves due to costly regulations, forcing rates to skyrocket and thousands to go uninsured. The reforms we made – giving consumers more power over their policies and increasing competition in the market – brought auto insurers back to the state and once again gave consumers affordable choices. Within a year after enacting the legislation, over 37,000 previously uninsured drivers could get insurance, and lower rates and voluntary refunds meant more than $133 million was returned to over 1 million policyholders. Today, New Jersey has the lowest uninsured motorist rate in the nation, thanks to the work we did.
But a problem that has persisted has been property taxes. If you asked anyone around the time I was elected what their biggest issues in NJ were, auto insurance and property taxes would always be number one and two on that list. And despite all we've done to make property taxes more affordable for NJ residents – setting us on a path toward fully funding our schools, fully funding the Homestead Rebate program, incentivizing shared services and consolidation – we still haven't been able to lower property tax bills. Unfortunately, NJ has had the distinction for many years of being the state with the highest property taxes in the nation. And the $10,000 cap on the State and Local Tax Deduction (SALT), passed as part of Trump's tax policy, is only making it harder for NJ residents to become homeowners. Perhaps my greatest disappointment as a legislator has been our inability to make structural changes to the way we fund local government. If I could change one thing in Trenton, it would certainly be updating this antiquated system to make NJ more affordable for working and middle-class families.
What are the legislative priorities, issues or areas of concern on which you would like to focus your attention?
As I mentioned, property tax reform needs to be somewhere at the top of that list. The pandemic really exposed the issues with relying on property taxes to fund local government. Unlike the income tax, which decreases during times of financial distress, your property tax bill is blind to your economic situation. We provided some relief to homeowners during the pandemic, such as moving back the deadline to file property taxes, fully funding the homestead rebate, and even beginning a program in the most recent budget to send direct tax rebates to thousands of middle class and working-class families. But without the needed structural changes, NJ families are still going to struggle with their property tax burden as they recover from the pandemic, especially if the SALT deduction cap is not repealed.
Mental health has also been especially concerning during the pandemic. Social isolation, job loss, and the loss of loved ones have caused anxiety and depression symptoms to spike, and if left unaddressed, I truly see this as the next looming public health crisis. According to a report by the New Jersey Hospital Association, 42% of respondents reported anxiety and/or depression symptoms between January. and February 2021, yet 20% of those people reported that they had an unmet need for counseling and therapy. The issue is especially concerning with young people, who have had to deal with drastic changes to their social and emotional development. According to the same report, between April and Dec. 2020, the proportion of those under 18 coming to the ER with anxiety symptoms increased 74% compared to 2019. Those coming to the ER with depression symptoms increased by 84%. That is why, over the course of the past year, I have been working on a package of bills to increase mental health services in schools. A recent package of bills I introduced will help increase access to these vital mental health services in the community and ensure that those who come to the ER with mental health issues can be connected with the appropriate behavioral health providers.
Finally, the work we have been doing to support small businesses during the past year cannot stop. Even though our state has been loosening COVID restrictions as more people get vaccinated, small businesses are still feeling the effects of the pandemic. We've done some great work in providing relief, such as the $50 million we appropriated to small businesses and microbusinesses through the Economic Recovery Act of 2020, the $235 million for small business relief recently signed into law, and our recent commitment to dedicate additional federal dollars to these important programs. But without continued support, many small, family-owned businesses will struggle to stay afloat.
Coming out of the pandemic, what are the lessons you've learned, and how do you believe those lessons should guide public policymakers going forward?
To me, the biggest takeaway from this past year is that you cannot ignore a problem until it reaches a crisis point. We've dealt with major disasters in this state before, like 9/11 and Superstorm Sandy. Those events certainly had considerable impacts on the entire state, but they did not affect every single resident the way COVID did. Problems we faced going into the pandemic – such as middle-class affordability, access to mental health services, etc. – have only been made worse over the course of the past year. Going forward, we as legislators need to be proactive in addressing our state's significant issues before they spiral out of control. It should not have to take a worldwide pandemic to expose the cracks in our system, but COVID was certainly a wake-up call that there is more that needs to be done to protect our residents should something like this happen again.
What was the make and model of the vehicle in which you learned how to drive? Also, what was the first (new or used) vehicle you owned?
I first learned to drive in an old, baby blue Ford Thunderbird. I remember the car specifically for its sleek, white drag top. The first car I owned was a used, 1982 white Camaro. I took this car in on a trade while working at Cherry Hill Subaru, and I paid $3200 for it. The first "new" car I purchased was a 1987 Subaru XT Turbo Coupe. I bought that car for $7700. I have all of these cars to thank, as well as my job in law school selling cars, for the love of automobiles that I still have to this day.
Assemblyman Greenwald's Bio:
Assemblyman Lou Greenwald has represented New Jersey's 6th Legislative District (Berlin Township, Cherry Hill, Collingswood, Gibbsboro, Haddon, Hadden field, Hi-Nella, Maple Shade, Merchantville, Oaklyn, Pennsauken, Somerdale, Stratford, Tavistock, and Voorhees) since 1996. He currently serves as the Assembly Majority Leader, a position he has held since 2012.
Assemblyman Greenwald attended Christ the King Parochial School in Haddonfield and graduated from Cherry Hill High School East. Continuing his education, he graduated from Moravian College in 1989 with a bachelor's degree in political science. He went on to earn a law degree from Seton Hall University School of Law. He is an attorney and currently CEO of Transformative Solutions, LLC in Voorhees, New Jersey.
He was honored by the American Diabetes Foundation, the Epilepsy Foundation, Southern New Jersey Jaycees, and the Cherry Hill Sons of Italy as their Person of the Year. He received the first-ever Governmental Leadership Award from the Advocates for New Jersey History.