The Charge Up New Jersey program was relaunched on July 6, 2021 as a point-of-sale incentive to help New Jersey residents make the switch to a plug-in electric vehicle (EV). Consumers can receive up to $5,000 as a cash-on-the-hood incentive toward the purchase or lease of an eligible new EV at dealerships across the State. Incentives are available on a first-come, first-served basis until funding is expended for Fiscal Year 2021.
Vehicles purchased or ordered before the relaunch of the program on July 6, 2021 will not qualify for an incentive.
To keep the Charge Up New Jersey funding available for as long as possible, and to reach customers who otherwise would not consider purchasing an EV, the New Jersey Board of Public Utilities established a two-tier incentive based on an EV's final manufacturer's suggested retail price (MSRP):
EVs with an MSRP up to $45,000 are eligible for $25 per mile of all-electric EPA driving range, up to a maximum incentive of $5,000. Eligible EV models with 200+ miles of all-electric range receive the maximum amount.
EVs with an MSRP between $45,000 and $55,000 are eligible for $25 per mile of all-electric EPA driving range, up to a maximum incentive of $2,000. Incentives are limited to vehicles with a final MSRP less than $55,000
Who is eligible?
Any resident who purchases or leases an eligible new EV in the State of New Jersey and registers it in the state is eligible for a Charge Up New Jersey incentive.
The incentives are for individuals ONLY, not businesses or public entities.
The only exception for residency is active-duty military members who are stationed in New Jersey with permanent residency elsewhere.
Eligible residents must purchase an eligible EV from a CSE-verified dealership, listed on the Charge Up New Jersey official website under "Eligible Dealers".
What vehicles are eligible?
Application documentation
For the point-of-sale incentive, consumers only need to provide a valid New Jersey driver's license. The dealership will submit all required paperwork.
Dealerships will need to submit:

Copy of the Charge Up New Jersey Terms & Conditions, signed by the consumer. Physical or electronic signatures are accepted.
Copy of the consumer's valid New Jersey driver's license
Copy of the Purchase/Lease Agreement
Copy of the Vehicle Registration (or eTemp)
MSRP
Participating dealerships must familiarize themselves with the proper MSRP calculation to determine the customer's eligible incentive amount for their chosen vehicle. Because customer choices on possible add-ons may affect the calculation (and ultimate incentive), it is important to identify the options/ add-ons up-front in order to accurately calculate the incentive. The dealership salesperson may want to work with the customer to build the vehicle they want, then use the chart below to determine the final MSRP and incentive amount. This chart includes examples of add-ons that affect the vehicle's value and ARE included in the MSRP calculation that determines the incentive amount as well as add-ons that are NOT included in the calculation.
A Look Back At Year One of the Charge Up New Jersey EV Incentive Program

The New Jersey Board of Public Utilities (NJBPU) recently released preliminary information about Year One. According to NJBPU's data, the Year One incentive funding by county was distributed as follows: Bergen (14.5%), Middlesex (12.3%), Monmouth (9.6%), Morris (7.3%), Essex (7.1%), Ocean (7%), Hudson (6.4%), Somerset (6.4%), Mercer (5.6%), Burlington (5%), Union (4.4%), Camden (4.2%), Passaic (2.5%), Gloucester (2%), Atlantic (1.4%), Hunterdon (1.4%), Sussex (1.1%), Cape May (.7%), Warren (.5%), Cumberland (.3%) and
Salem (.2%).
Additionally, of the 6,914 applications approved in Year One of the Program, 5,735 (83%) represented just one manufacturer: Tesla. All other manufacturers accounted for the other 17% of Year One incentive funds.
New Jersey dealerships want to sell what consumers want to buy. The success of future incentives to convert consumers into EV drivers is critical to achieving New Jersey's goal of 330,000 light-duty, plug-in electric vehicles on the road by December 31, 2025.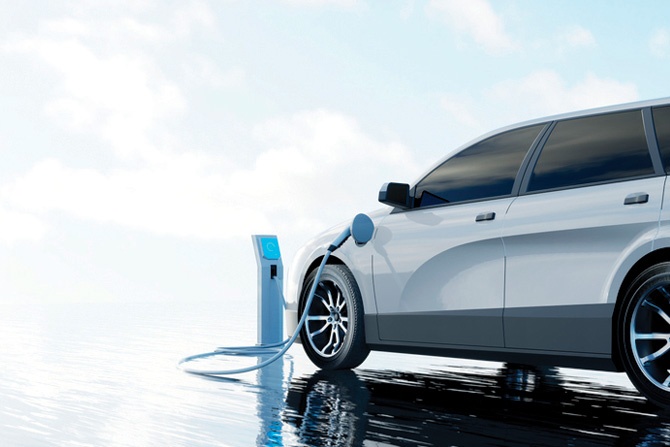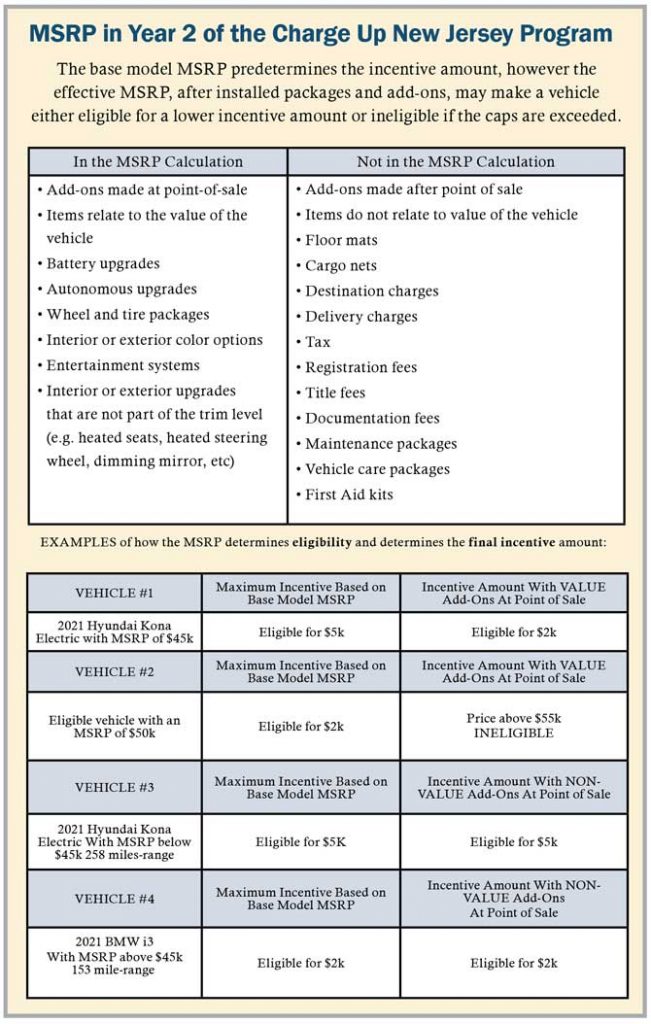 14-DAY SUBMISSION WINDOW

Under the Program, dealerships have 14 days, from the date of sale or lease, to submit the reimbursement application. The 14 days are calendar days and include Saturdays, Sundays, and holidays when determining the application deadline.
The Charge Up New Jersey Program is a first-come, first-served program. Therefore, it is in the dealership's best interest to submit the application on the transaction day or as close to it as possible to minimize any chance of the 14-day window closing or funding being expended before the application is submitted. Applications submitted after the 14-day window will be denied. Dealerships are encouraged to submit their applications as quickly as possible.
Visit the Charge Up New Jersey webpage (chargeup.njcleanenergy.com) for a complete list of program details, including how to become an eligible dealer to participate in the program, how much funding is in the program, and other useful tools.
New Jersey Continues Its Push Toward Plug-In Vehicles

New Jersey's long-standing effort to improve air quality, reduce greenhouse gas emissions, and reduce operating costs for consumers culminated in the passage of the Electric Vehicle (EV) Act on January 17, 2020. The law sets aggressive goals to reach by December 31, 2025 including:
330,000 light-duty, plug-in electric vehicles are to be registered in New Jersey, and
at least 1,000 Level Two electric chargers available for public use across the state.
The EV Act was the natural culmination of more than a decade of legislation, beginning with New Jersey's commitment to implement the California Low Emission Vehicle (Cal LEV) Program in 2003 and the passage of the Global Warming Response Act in 2007. These laws, coupled with the State's Energy Master Plan, sent New Jersey on the road toward the use of low- and zero-emission vehicles, including plug-in EVs. The EV Act aims to achieve its aggressive goals by providing incentives for the purchase or lease of EVs and related charging equipment. The Charge Up New Jersey Program (discussed in several stories or columns in this issue) is the result of that requirement.
New Jersey has implemented various incentive programs to spur the transition from internal combustion engine (ICE) to zero emission vehicles (ZEV). Along with the Charge Up New Jersey Program, the State also offers the following additional incentives:
ZEV Sales Tax Exemption
It Pay$ to Plug In EV Charging Grants Program
Diesel Vehicle and Equipment Electrification Grants
eMobility: Grants for Electric Car-sharing and Ride-hailing Services
Clean Fleet EV Incentive Program: Funding for State and Local Governments
EZ Pass Green Pass Discount on Tolls
HOV Lane Access for ZEV
No Luxury and Fuel-Inefficient Vehicle Surcharge for ZEV (LFIS)
The federal government has also issued incentives for the use of ZEV or plug-in electric vehicles. Incentives include the Plug-in Electric Drive Vehicle Credit of up to $7,500, the Alternative Fuel Vehicle Refueling Property Credit, and the Alternative Motor Vehicle Credit.