For more than 100 years, auto manufacturers have used franchisees to distribute their products to consumers. The franchise model provides many benefits to consumers, including inter and intra-brand price competition and ready access to warranty, recall, and general maintenance service.
Electric Vehicle (EV)-only manufacturers have long claimed that their EVs must be sold directly to consumers because franchised dealers were either unwilling or unable to sell EVs. In 2021, EV-only manufacturers repeated these claims in legislatures across the country.
Their claim ignores the reality at thousands of showrooms across the country and hundreds right here in New Jersey. The fact is franchised dealers currently offer more than 40 models with a plug, and that number will be 140 in the next few years. While many states (including New Jersey) incentivize consumers to purchase an EV, the vehicles continue to sell across the country, as you can see in the chart below, from the U.S. Department of Energy (updated in June 2021). Note that New Jersey sits behind only California, Florida, Texas, Washington, and New York in total EV sales.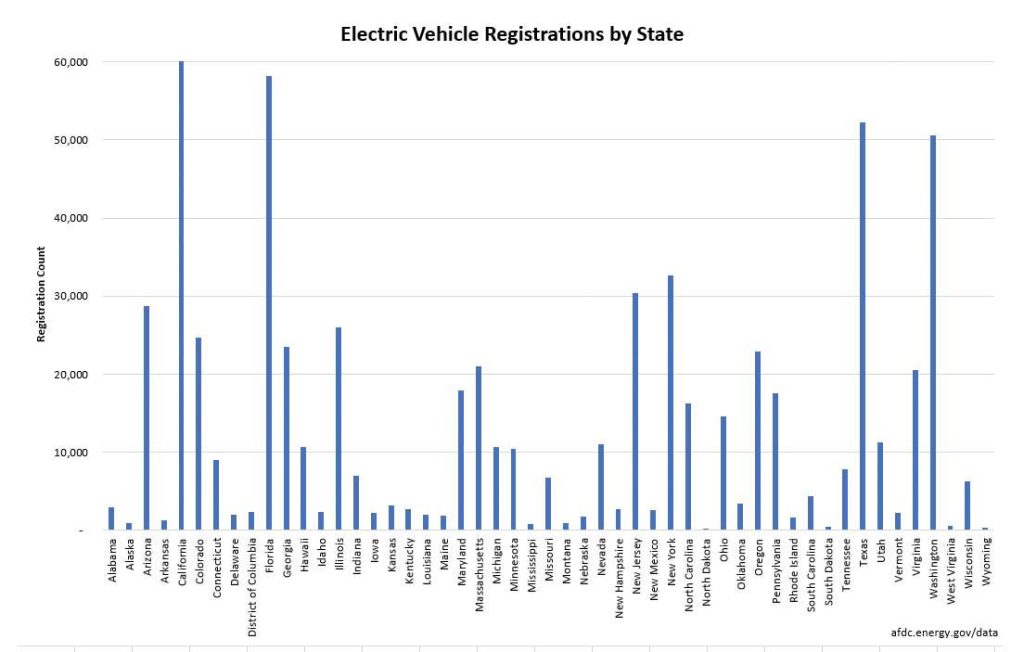 Source:
Vehicle registration counts derived by the National Renewable Energy Laboratory with data from Experiean Information Solutions
Notes:
Only all-electric vehicles (EVs) are included in this chart; plug-in hybrid electric vehicles (PHEVs) are not included.
Registration counts are approximate.
California had approximately 425,300 light-duty electric vehicle registrations in 2020, but the chart is cut off at 60,000 to make it easier to see the other states
Worksheet available at afdc.energy.gov/data
Last updated June 2021
A Critical Fight Worth Having
Despite franchised car and truck dealers' role in the sale of the full spectrum of clean vehicles (EVs, HEVs, and PEVs), an effort has been undertaken to marginalize their contribution. Some EV-only manufacturers have been knocking on legislators' doors across the country, asking them to change state laws to suit their direct-sales business model. In the last year, they have lobbied legislatures across the country to legalize the direct sale model for EVs. Encouraged by the prospect of a sales model that will increase their shareholders' profits, some legacy original equipment manufacturers (OEMs) are analyzing the prospects of similar transitions for themselves. This is a critical fight worth having, and dealerships must remain engaged to ensure any legislation that would undercut their franchise(s) is defeated.
New Jersey already authorizes direct selling for EVs, but only for Tesla. In 2015, New Jersey enacted special legislation that allowed an EV-only manufacturer, licensed by the New Jersey Motor Vehicle Commission (NJMVC) on or prior to January 1, 2014, to sell directly to consumers. This legislation is only applicable to Tesla since they were the only EV-only manufacturer licensed by the NJMVC at the time. Tesla went on to seek similar special legislation from other states. But Tesla's claims for direct sales are based on fiction.
Tesla Claims
Reality
Independent Dealer Locations can only be achieved in
direct sales.
In a franchise system, Tesla could determine locations.
Large inventories are unsuitable for Tesla.
In a franchise system, Tesla could dictate inventory sizes.
Only direct sales allow for high-volume, fast-paced sales.
In a franchise system, Tesla could mandate the training and
staff for its sales standard.
Franchised dealers would not know how to profit from a
Tesla, because they profit from ancillary services (trades,
financing, service contracts, parts, services).
In a franchise system, franchise candidates determine the risk of investing, but would look to Tesla to provide the franchise proposition.
Franchised dealers selling EVs conflict with ICE vehicles.
In a franchise system, Tesla could establish exclusive dealerships.
Franchised dealers rely on advertising.
In a franchise system, Tesla could continue to rely on its
brand recognition or engage in conventional advertising as
competition increases.
Franchised dealers profit from mark-ups.
In a franchise system, Tesla dealers would want to succeed!
Currently, Tesla's mark-ups go directly to Tesla.
The direct sale model is not a requirement for EVs. It is, however, harmful to New Jersey's consumers and economy. Put simply, no components in an EV require that the car be sold using the direct sale model. It is a choice made by OEMs. All EVs can currently be sold throughout the country under the laws that exist today in every state. Some OEMs want the laws to change to favor their profit-centered choice despite the negative consequences to consumers and local economies. The direct sales model does not favor the consumer. In contrast, the franchise model is consumer-centric, as you can see in the following graphic:
| Status of NJ New Car and Truck Industry | Motor Vehicle Franchise Model | Direct Sales Model |
| --- | --- | --- |
| Consumers have an advocate against OEMs on safety and recall issues | YES | NO |
| Consumers have an immediate partner to make OEMs accountable | YES | NO |
| Consumers benefit when dealers compete | YES | NO |
| Dealers compete on pricing for sales & service | YES | NO |
| Consumers' purchases align with local jobs and local interests | YES | NO |
| Employ 36,000+ New Jersey residents | YES | NO |
| Generate $36 billion in sales | YES | NO |
| Represent over 500 local rooftops | YES | NO |
| Large network of factory-authorized sales and service points | YES | NO |
| Support local charities, internships, and employment programs | YES | NO |
| Complete solution for consumer's needs (sales, trade-ins, on-the-spot financing, large parts inventory, complete maintenance, warranty and recall repair) | YES | NO |
| Assume advertising, building and personnel costs | YES | YES |
New Jersey's EV, Plug-In Hybrid, and Hybrid Sales Are Growing
As you can see in the accompanying graphs, New Jersey sales of EVs and plug-in hybrids have nearly tripled since 2018 and more than doubled from 2020 to 2021 alone. Sales of hybrid vehicles were relatively flat from 2010 until 2018 but more than doubled from 2020 to 2021. This upward trajectory clearly illustrates that these vehicles are being successfully sold using the franchise model.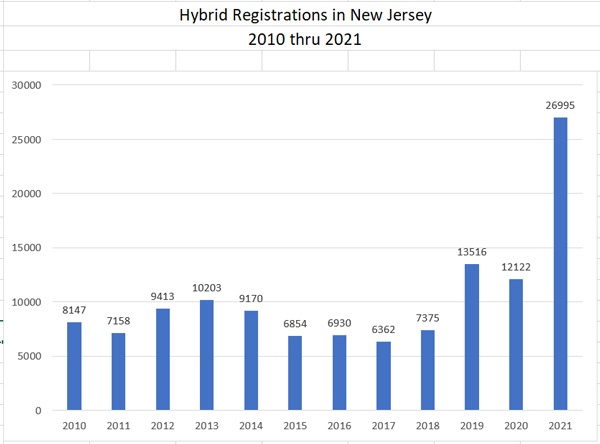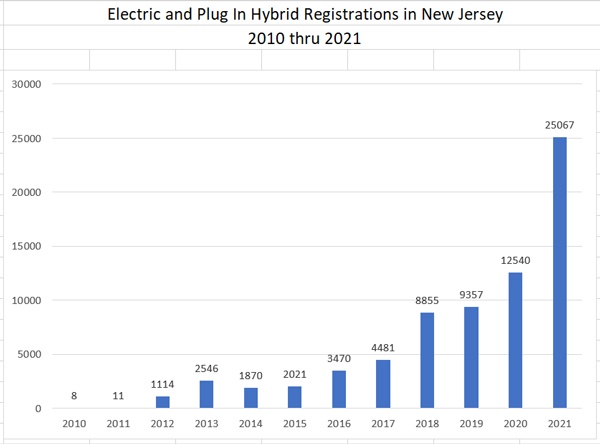 New Jersey Puts Money Behind Its Aggressive EV Goals & Cal-LEV Mandates
New Jersey Governor Phil Murphy's EV goals need a committed partner, and the state's 500+ franchised new car and truck dealerships are ALL IN on EVs. Their dealerships are where these sales occur, where the transition from an internal combustion engine to an EV is encouraged, where the relationships are made to address an EV consumer's unique needs.
New Jersey's franchised dealers have helped the state in its goal of registering 330,000 EVs in New Jersey by 2025. The State's Charge Up New Jersey EV incentive program is intended to boost EV adoption among New Jersey consumers by offering a best-in-the-nation incentive of up to $5,000 off a qualifying EV. The $300 million program launched in 2020 is expected to provide $30 million per year for 10 years. To date, two years of the program have been completed, and legislation providing funding for the third year of EV incentives is forthcoming.
According to data available on the Charge Up New Jersey website, as of March 7, 2022, New Jersey's retail automotive industry has assisted the State in providing consumers with $53 million EV, HEV, and PHEV purchase incentives. To date, 17 different brands (including 16 utilizing the franchise model, noted in BOLD) have participated in the incentive program, including:
BMW
Chevrolet


Chrysler

Ford



Honda
Hyundai
Jeep Wrangler
Kia
Mercedes-Benz
Mini Cooper
Mitsubishi
Nissan
Subaru
Tesla
Toyota
Volkswagen
Volvo
Another year of incentives is anticipated by the summer, and more automakers (and models) will be entering the EV market. New Jersey's dealers are eager to continue participating in the Charge Up New Jersey EV incentive program and showcase and sell all existing and soon-to-be-introduced EV models.
New Jersey dealers should contact their manufacturers NOW to encourage them to release inventory to New Jersey in anticipation of the next round of best-in-the-nation EV incentives and consumers' increasing appetite for more options. EVs do not need the direct sale models to be sold. They need to be made available, and they need to be competitive, just like dealers.